HISPANIC MINISTRY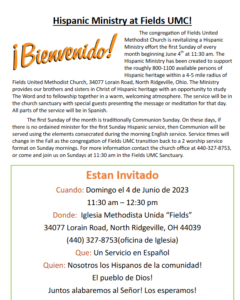 Common Union
Common Union is the contemporary worship praise team. They practice once a week and perform on Sundays. The repertoire of this group consists of traditional hymns to the newest releases in Christian music. This group is composed of vocalists, and common worship team instruments (drums, guitar, bass, and auxiliary percussion). If you would like more information about joining this group, please contact the church office at 440-327-8753.
Handbell Choir
The handbell choir is a great way to be a part of a team while doing much individual work. This choir plays once a month and rehearses once a week in the sanctuary. We work each week to take our bells and ring them to worship the Lord.
For any more information about the wonderful choirs please feel free to contact the church office.

Simple Abundance
The Ladies of Simple Abundance came to be a part of FUMC several years ago when a book called Simple Abundance – A Daybook of Comfort and Joy by Sarah Ban Breathnach came with one of us to be used as a devotional. The author had a way of gently and spiritually reviving the soul and reminding us to find JOY in the simple things that many times get overlooked in our daily hurry-up. Since our official naming of the group, Simple Abundance, we have had the opportunity to enjoy many missions that God has put in our path. Quarterly meetings are time to get together and share our blessings over fellowship and laughter, prayer and praise, bible study and book studies, over prayer shawls and discussing the needs of our congregation. Some of our missions include the Cookie Walk in early December that has proven to be a hit with the congregation as well as the public. Our outreach through baked goods and feeding the soul does not end there. We are actively participating in Tuesday Night Dinners which is a weekly outreach ministry at FUMC for anyone in need of fellowship and a meal. And certainly everyone's favorite activity is our annual women's retreat where church friends become family and families are blessed to have their mom, wife, mother, sister, aunt or grandmother refreshed and renewed with an ever growing Circle of Friends that provide unconditional love and support. If you are weathering storms alone, or just need some monthly 'girlfriend time" please join us and feel the love of God working in all of us as He prepares us to live happily ever after, simply and abundantly.
United Methodist Women
The organized unit of United Methodist Women shall be a community of women whose purpose is to know God and to experience freedom as whole persons through Jesus Christ; to develop a creative, supportive fellowship; and to expand concepts of mission through participation in the global ministries of the church.

UMW holds one Roast Beef Dinner a year. We also host/support/participate in:

All women are welcome to join. We meet the 3rd Thursday of the month (Sept. – May) at 10 AM.
United Methodist Men
Our mission is to support spiritual growth among men, helping men to mature as disciples as they encourage spiritual formation in others.
The goal of United Methodist Men is to empower the ministry of Jesus Christ through men within the congregations of the UMC.
Everyone has different gifts, graces and areas of interest. Opportunities for participation include the diverse ministries of the church, such as prayer groups, missions, Bible studies, retreats, workshops/seminars, small groups in the Wesleyan tradition, leading and participating on committees, teaching Sunday school classes, youth ministries, scouting, mentoring and assisting in leading worship service. The focus is not inward, concentrating only on those who attend a set meeting, but outward to all men, assisting them to engage in the process of spiritual growth.
Currently the men of Fields participate different study topics or work projects around the church.
Missions Committee
Supports:
Collect Cans

Collect Food for Food Pantries
Offer Various Mission Opportunities
Assist With Tuesday Nite Dinner
Volunteer at Local Missions
Young @ Heart Fellowship
Are you 55+ and retired? Then come join us for food, fun and fellowship. Be a part of the Young @ Heart Group!
We meet the 2nd Wednesday of each month. Some of the activities that we have enjoyed together in the past:
Road trips to Amish Country, Lake Erie Islands, Sauder Village, etc.

Holiday Luncheons

Annual Pajama Party

Annual Bocce Tournament

Annual World Series Tournament

Lunches with games and speakers
Come join us for all the fun!!
IGNITE YOUTH FELLOWSHIP
Ignite youth culture is the youth fellowship of Fields United Methodist Church, open to all youth in grades 6-12. Ignite aims to be a place where youth can come to be themselves and have time together laughing, fellowshipping and growing in relationship with God and each other. Our goal is to have a great time while we actively live out the word of God through our actions and interactions. Some of the activities you might find Ignite up to include: Bon fires, Winter Retreats, working at the Nehemiah Mission of Cleveland, Scavenger Hunts, Project Feed, working at the Twice Blessed Free Store, participating in Sunday Worship, Game Night, Tuesday Night Dinner, attending Youth Annual Conference and much, much more! Check out the Events page for meeting dates and activities.