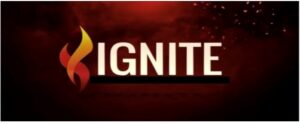 24nite Youth Fellowship will meet again on Sunday January 24th at 12:30 pm! Please call Emily Radloff for more information. 216-288-1966.
Parents and Caregivers, be on the lookout for links to online children's programing from Ms. Nancy and some of our other teachers. Also,
watch for Children's Chat each Sun. January JAM bag info will be on your doorsteps soon! Keep an eye out for some fun curriculum!
Ms Nancy's January "Lessons From The Mystery Bag" videos are available for our families to watch and coordinate with the weekly J.A.M. Bag activities.
The weekly videos can be viewed anytime on the church's Facebook or
YouTube channels. Every Friday a new video will be available. New
lessons are mailed or delivered to your doorstep each month.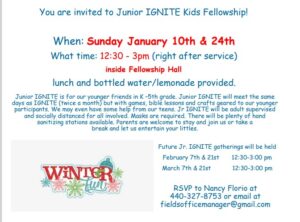 Fields' GriefShare program is rescheduled for Spring 2021. The program leader, Nancy Florio, is available to those that have an immediate need, please contact her at 440-327-8753 if you need someone to talk with now.
More more information please see the Griefshare website https://www.griefshare.org/ or contact the church.

If you have had a change of address, telephone number or email we would love to hear from you. We have many outdated phone numbers and emails in our directory. Please, email or call the church office. If you have done this already, THANK YOU!

Tuesday and Thursday Bible Studies are continuing to meet via Zoom and in person. Please contact Pastor Tom or please email the church at fieldsofficemanager@gmail.com or call 440-327-8753 to be sent an invitation to join us. No experience necessary!
Please contact the church office at 440-327-8753 or via email at fieldsofficemanager@gmail.com with questions
about any of the events above.