Thoughts Along the Way
Pastor Tom Joyce
June 23, 2021
"But I say to you, love your enemies and pray for those who persecute you, so that you may be children of your Father in heaven; for he makes his sun rise on the evil and on the good, and sends rain on the righteous and on the unrighteousness."
Matthew 5:44-45
There is a Word coming in midst of our cultural wilderness that offers an alternative that seeks peace through "loving our neighbor as ourselves." The challenge is, who is our neighbor. It is easy to love those with whom we agree, who care for us and love us. But what about those with whom we disagree or those who have actually caused us harm, what about them? Jesus has an answer, "pray for them." Prayer is a gift from God that has the power to transform lives and have us see beyond what we may perceive as reality and come to understand others no matter the differences between us. I was reading a book borrowed from the library in the church we stayed at during our first mission trip to Joplin, Missouri. There was a quote within the text that jumped out at me; "be kind, everyone is fighting a battle." If this is the case, then why not pray for all people, friend and otherwise, for the grace of our Lord Jesus Christ will offer them comfort, peace, and hope, while offering us the same. The people we pray for may not accept the joy that comes with faith but if it is never offered, then it can never be received. Seems like harboring anger and resentment does nothing but cause sleepless nights and anxiety. Jesus is calling us to a more excellent way to live, an alternative to what we often see if we turn into the 24 news cycle that just recycles the same old stuff. It is amazing what happens when we offer the amazing grace of God to all people, regardless of what we think of them, or how they think of us. God is big enough to handle our prayers for others, no matter who they are, just as God is big enough to handle prayers for us and those things in life that challenge us. Seems like Jesus is calling us to look at one another a bit differently, sharing grace and prayers to all people, not just those we get along with but also, and especially, those we do not. Thank you Jesus for enlivening our hearts to see beyond ourselves to pray for all people and sharing with them your grace through our witness.
---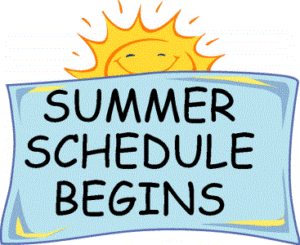 Our Sunday Summer Worship Schedule begins May 21, 2023. We will have one serve beginning at 10:00 AM. Our Saturday evening Service will start June 3, 2023 and be held outside in our pavilion at 5:00 pm.
Pastoral Visits:
If you would like a visit or would just like to talk, please let me know. Please
call or text me at 330-416-1817, call the church office at 440-327-8753, or email me at
fieldsumcpastor@gmail.com. As always, I am available to pray anytime, just give me a call. I
am here for you and honored to be your pastor. God is good all the time!
If you wish to join us in person but are not ready to enter the building, you can worship from your car, tuned in to 88.5 FM or from the comfort of your home by tuning in to one of our online platforms below

Please join us on Sunday on our webpage:
www.fieldsumc.org (click livestream)
FaceBook: www.facebook.com/fieldsunitedmethodistchurch, or
Youtube: www.youtube.com/user/fieldsumc/videos.
The ministry of Jesus Christ continues though Fields especially during this time. If you are able to give, here are a few options:
Online: www.fieldsumc.org tap "giving"
Text: 440-319-3537
Mail: Fields United Methodist Church
34077 Lorain Rd.
North Ridgeville, Ohio 44039
Thank you for your prayers and support.

Our Mission: To make Disciples of Jesus Christ for the transformation of the World.
CONTACT US
North Ridgeville OH 44039
fieldsofficemanager @gmail.com
The information on this site is the property of Fields United Methodist Church. No broadcasting or duplication
of any materials are allowed.
CHURCH COPYRIGHT LICENSES
CCLI #2218007
Church Streaming
and Podcast License
#CSPL016520

CVLI #503204932

WorshipCast
#8044

Our Mission: To make Disciples of Jesus Christ for the transformation of the World.