Thoughts Along the Way
Pastor Tom Joyce
February 8, 2022
"So it is with those who store up treasures for themselves but are not rich towards God."
Luke 12:21
In the parable of "The Rich Fool," (Luke 12:13-21) the person who built bigger barns committed no crime, caused no harm to anyone else, and did what he believed was in his own best interest. It is the latter that illustrates the chasm between the "kingdom of the world," and the "Kingdom of God." Jesus never said that it was wrong to enjoy the possessions we have, yet the issue is being bound by possessions and whose possessions they are in the first place. When our possessions take precedence over the people God has put in our path and ultimately God, we have lost our way. There is nothing that is possessed that cannot be taken away and at some point will become useless. Wealth in God's Kingdom is not measured in monetary value or the number of "barns" we own to store our stuff; it resides in where our source of strength is found. Jesus says, "come to me all who are weary and carrying heavy burdens….," not "go out and buy something that makes you feel good." It is faith in Jesus Christ that is sustaining; when all seems lost our lives are found in Jesus. Jesus said, "for where your treasure is, there your heart will be also." (Luke 12:34) All that we have in this life is truly God's; we are simply trustees of what we have been given. And as trustees, we use those gifts not for our own glory or self-sufficiency but for the glory of God, living up to the greatest commandment to, "love the Lord your God with all of your heart, and with all your strength, and with all your mind; and your neighbor as yourself." (Luke 10:27) Celebrate what you have received from God to care for on God's behalf, caring for those along your path knowing you are not alone along the sojourn of life; you will know the richness of the pure love of God through Jesus and the privilege of serving the One who "will neither slumber nor sleeps," and who "will keep your going out and coming in from this time on and forever more." (Psalm 121) You are incredibly loved by God and have amazing blessings to be a blessing to others as you have been blessed.
---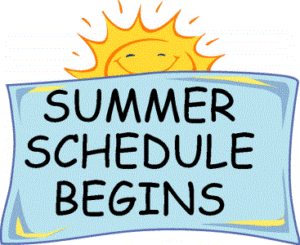 Our Sunday Summer Worship Schedule begins May 21, 2023. We will have one serve beginning at 10:00 AM. Our Saturday evening Service will start June 3, 2023 and be held outside in our pavilion at 5:00 pm.
Pastoral Visits:
If you would like a visit or would just like to talk, please let me know. Please
call or text me at 330-416-1817, call the church office at 440-327-8753, or email me at
fieldsumcpastor@gmail.com. As always, I am available to pray anytime, just give me a call. I
am here for you and honored to be your pastor. God is good all the time!
If you wish to join us in person but are not ready to enter the building, you can worship from your car, tuned in to 88.5 FM or from the comfort of your home by tuning in to one of our online platforms below

Please join us on Sunday on our webpage:
www.fieldsumc.org (click livestream)
FaceBook: www.facebook.com/fieldsunitedmethodistchurch, or
Youtube: www.youtube.com/user/fieldsumc/videos.
The ministry of Jesus Christ continues though Fields especially during this time. If you are able to give, here are a few options:
Online: www.fieldsumc.org tap "giving"
Text: 440-319-3537
Mail: Fields United Methodist Church
34077 Lorain Rd.
North Ridgeville, Ohio 44039
Thank you for your prayers and support.

Our Mission: To make Disciples of Jesus Christ for the transformation of the World.
CONTACT US
North Ridgeville OH 44039
fieldsofficemanager @gmail.com
The information on this site is the property of Fields United Methodist Church. No broadcasting or duplication
of any materials are allowed.
CHURCH COPYRIGHT LICENSES
CCLI #2218007
Church Streaming
and Podcast License
#CSPL016520

CVLI #503204932

WorshipCast
#8044

Our Mission: To make Disciples of Jesus Christ for the transformation of the World.