Pastor Tom's Weekly Blog. "Jesus!" John 20:19-29
April 17, 2020
"Jesus said to him, 'Have you believed because you have seen me? Blessed are those who have not seen yet have come to believe'" John 20:29
It seems we need answers, if not proof for everything; we are a people who demand answers and once we have answers we demand proof that the answers are true. When the disciples met and Jesus stood among them as one resurrected from the dead, they rejoiced. It is easy to affirm what we see, but what about those things we cannot see? It is a simple thing to affirm what we understand, but what about things that defy explanation? In this Gospel testimony, Thomas, one of the disciples, needed proof, needed to know beyond a shadow of a doubt that Jesus was truly resurrected from the dead, hence Lord and Savior. When he saw Jesus stand before him, he believed with perhaps the greatest affirmation in all of Scripture, "My Lord and my God." For Thomas he needed to see Jesus, but what about us, nearly 2,000 years later? Well, we are blessed by God when we believe, when by faith we affirm the presence of Jesus in our everyday life; "blessed are those who have not seen yet have come to believe." Maybe our belief is wrapped up in knowing that our Creator loves us so much that offers us a redeemer in Jesus the Christ. Maybe with eyes of faith we do see Jesus alive and well, standing before us through the witness of others and God's creation. The "fullness" of empty churches is testimony of the presence of Jesus that is not and cannot be confined by bricks and mortar or a series of "do's and don'ts;" a Jesus whose presence is affirmed by the lives that surround us on a daily basis, by a kind word, text, email, call, or glance within social distancing parameters… The love of God through Jesus Christ can be "seen" in the amazing creation that surrounds us daily, in the miracles that abound every moment. Jesus can be "seen" when the weight of sin and guilt are lifted from our weary shoulders and an opportunity to start fresh is given. Maybe there are no answers to many of our questions, but there is proof of the existence of God and the grace that has been received. You have been given another chance by God through and by the grace of Jesus Christ; your life is proof of the love and presence of God. Thank you Jesus!
Rev. Tom Joyce, pastor
Fields United Methodist Church
---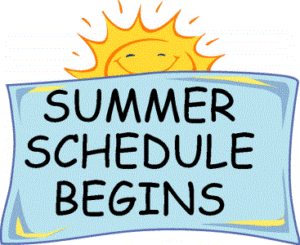 Our Sunday Summer Worship Schedule begins May 21, 2023. We will have one serve beginning at 10:00 AM. Our Saturday evening Service will start June 3, 2023 and be held outside in our pavilion at 5:00 pm.
Pastoral Visits:
If you would like a visit or would just like to talk, please let me know. Please
call or text me at 330-416-1817, call the church office at 440-327-8753, or email me at
fieldsumcpastor@gmail.com. As always, I am available to pray anytime, just give me a call. I
am here for you and honored to be your pastor. God is good all the time!
If you wish to join us in person but are not ready to enter the building, you can worship from your car, tuned in to 88.5 FM or from the comfort of your home by tuning in to one of our online platforms below

Please join us on Sunday on our webpage:
www.fieldsumc.org (click livestream)
FaceBook: www.facebook.com/fieldsunitedmethodistchurch, or
Youtube: www.youtube.com/user/fieldsumc/videos.
The ministry of Jesus Christ continues though Fields especially during this time. If you are able to give, here are a few options:
Online: www.fieldsumc.org tap "giving"
Text: 440-319-3537
Mail: Fields United Methodist Church
34077 Lorain Rd.
North Ridgeville, Ohio 44039
Thank you for your prayers and support.

Our Mission: To make Disciples of Jesus Christ for the transformation of the World.
CONTACT US
North Ridgeville OH 44039
fieldsofficemanager @gmail.com
The information on this site is the property of Fields United Methodist Church. No broadcasting or duplication
of any materials are allowed.
CHURCH COPYRIGHT LICENSES
CCLI #2218007
Church Streaming
and Podcast License
#CSPL016520

CVLI #503204932

WorshipCast
#8044

Our Mission: To make Disciples of Jesus Christ for the transformation of the World.