Day 37. Take Time to Be Holy
May 18, 2020
"But the tax collector, standing far off, would not even look up to heaven, but was beating his breast and saying, God be merciful to me, a sinner." Luke 18:13
Read: Luke 18:1-14
The first car I ever drove was nicknamed "the bomb," not because of its speed but because it was almost completely rusted through and through. It had bailing wire holding the fenders in place, a grass catcher covering a massive hole in the trunk and this miracle substance called "Bondo" that plugged holes and gaps caused when rust consumed every fender. It was a bomb to be sure. One day just a few years ago I was driving around and saw an old car which was in perfect condition that was the same year and model of the old bomb. It looked so nice, perfect was a better word for it, and a price to go along with its beauty. But as I looked closer, put my hand under the fenders and peered into those areas that were consumed in my old car, I realized it looked good on the outside but it was just the same as the car I once owned. We can make our lives look pretty good too, on the outside. We can act like we are on the top of the world and may even believe it; that is how damaging an ego can be when our outward appearance does not quite match up with reality. The tax collector in the Bible story knew who he was and admitted as much; he was honest with God and honestly wanted to change his life. It is ok to admit when we are wrong, when we are consumed by guilt that eats at our soul like rust on an old car. Here is the amazing thing about grace; Jesus already knows who you are, what you have done, but still loves you and wants you to be freed from hauling around an ego that does nothing but create more and more problems in your life. You were created to be you, and Jesus loves you, right down to your soul and wants to rid you of the guilt, burdens and sin that challenges your relationship with God and others. You are loved, and Jesus wants you to know that and is waiting for you to turn back to the one who has redeemed you and has called you by name.
Prayer: Merciful God, I know that sometimes my ego and pride gets in the way of my relationship with you and others; forgive me so I can more fully live in your love and live a life of grace, mercy, and hope from now on. Amen
---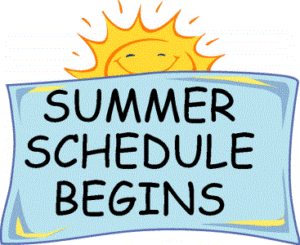 Our Sunday Summer Worship Schedule begins May 21, 2023. We will have one serve beginning at 10:00 AM. Our Saturday evening Service will start June 3, 2023 and be held outside in our pavilion at 5:00 pm.
Pastoral Visits:
If you would like a visit or would just like to talk, please let me know. Please
call or text me at 330-416-1817, call the church office at 440-327-8753, or email me at
fieldsumcpastor@gmail.com. As always, I am available to pray anytime, just give me a call. I
am here for you and honored to be your pastor. God is good all the time!
If you wish to join us in person but are not ready to enter the building, you can worship from your car, tuned in to 88.5 FM or from the comfort of your home by tuning in to one of our online platforms below

Please join us on Sunday on our webpage:
www.fieldsumc.org (click livestream)
FaceBook: www.facebook.com/fieldsunitedmethodistchurch, or
Youtube: www.youtube.com/user/fieldsumc/videos.
The ministry of Jesus Christ continues though Fields especially during this time. If you are able to give, here are a few options:
Online: www.fieldsumc.org tap "giving"
Text: 440-319-3537
Mail: Fields United Methodist Church
34077 Lorain Rd.
North Ridgeville, Ohio 44039
Thank you for your prayers and support.

Our Mission: To make Disciples of Jesus Christ for the transformation of the World.
CONTACT US
North Ridgeville OH 44039
fieldsofficemanager @gmail.com
The information on this site is the property of Fields United Methodist Church. No broadcasting or duplication
of any materials are allowed.
CHURCH COPYRIGHT LICENSES
CCLI #2218007
Church Streaming
and Podcast License
#CSPL016520

CVLI #503204932

WorshipCast
#8044

Our Mission: To make Disciples of Jesus Christ for the transformation of the World.