Day 41. Take Time to Be Holy
May 26, 2020
"Now the Lord is the Spirit, and where the Spirit of the Lord is, there is freedom."
II Corinthians 3:17
Read: II Corinthians 3
Everywhere we look these days, there are signs saying what is allowed and what is not allowed. During this season of pandemic, what we are able to do has been limited for the health and safety of others. Some would contend that the Holy Bible is a rule book, full of "signs" that restrict what we are able to do and not do with our lives. Yet consider this, our Lord Jesus Christ offers a different summation of "God's love story to us," the Bible, with 2 simple rules to live by; "to love the Lord your God with all of your heart, mind, soul, and strength, and to love your neighbor as yourself." In a world governed by rules, the "Spirit of the Lord" offers a refreshing and freeing alternative that is based on grace. This "costly grace" is one that flows through the cross of Jesus and though he died an excruciating death on a cross because of the hatred and callousness of the world, he looked over the crowd that was cheering him on to death and prayed for them, "Father forgive them; for they do not know what they are doing." (Luke 23:34) Those words of grace, spoken with the power of the Holy Spirit, unbound each of us from sin that chained us to the whims and wishes of others. Though it is important to follow rules that help ensure others are safe as we called to "do no harm" to others, the Holy Spirit calls us to do so with the amazing love of God, grace, that seeks for us to have life in the abundance of the love of God. We have been offered the freedom of knowing that even as the clouds of doubt and pain may hang over us, there is hope for tomorrow, and today for that matter. As the sun rises to give birth to a new day with new and exciting beginnings, we are offer the "Spirit of the Lord" to open the "eyes of our heart" to see the world in an entirely different way; with grace, hope, and the joy of knowing that no matter the journey we are on today and where ever that seems to be leading, in Christ there is always the freedom of knowing that the Creator of the Universe is with you and will be with you even to the end of the age. That is the freedom that is offered to all who believe.
How have you felt the freedom of God's presence today?
When have you felt the Spirit of the Lord in the past week?
How are you taking time to be holy today?
Prayer: Gracious God, help me to understand the freedom you give me today. Forgive me for the times I have failed to appreciate the grace you offer and set me free to truly live a life of grace, hope, and joy. Amen
---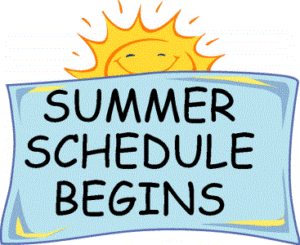 Our Sunday Summer Worship Schedule begins May 21, 2023. We will have one serve beginning at 10:00 AM. Our Saturday evening Service will start June 3, 2023 and be held outside in our pavilion at 5:00 pm.
Pastoral Visits:
If you would like a visit or would just like to talk, please let me know. Please
call or text me at 330-416-1817, call the church office at 440-327-8753, or email me at
fieldsumcpastor@gmail.com. As always, I am available to pray anytime, just give me a call. I
am here for you and honored to be your pastor. God is good all the time!
If you wish to join us in person but are not ready to enter the building, you can worship from your car, tuned in to 88.5 FM or from the comfort of your home by tuning in to one of our online platforms below

Please join us on Sunday on our webpage:
www.fieldsumc.org (click livestream)
FaceBook: www.facebook.com/fieldsunitedmethodistchurch, or
Youtube: www.youtube.com/user/fieldsumc/videos.
The ministry of Jesus Christ continues though Fields especially during this time. If you are able to give, here are a few options:
Online: www.fieldsumc.org tap "giving"
Text: 440-319-3537
Mail: Fields United Methodist Church
34077 Lorain Rd.
North Ridgeville, Ohio 44039
Thank you for your prayers and support.

Our Mission: To make Disciples of Jesus Christ for the transformation of the World.
CONTACT US
North Ridgeville OH 44039
fieldsofficemanager @gmail.com
The information on this site is the property of Fields United Methodist Church. No broadcasting or duplication
of any materials are allowed.
CHURCH COPYRIGHT LICENSES
CCLI #2218007
Church Streaming
and Podcast License
#CSPL016520

CVLI #503204932

WorshipCast
#8044

Our Mission: To make Disciples of Jesus Christ for the transformation of the World.