Pastor Tom's Weekly Blog. "Equipped" Acts 2:1-21
May 29, 2020
"When the day of Pentecost had come, they were all together in one place. And suddenly from heaven there came a sound like a violent wind, and it filled the entire house where they were sitting." Acts 2:1-2
From the time when the earth was created and "a wind from God swept over the face of the waters," (Genesis 1:2) the Holy Spirit set into motion creation not only of the universe but of life itself. On the day of Pentecost, God gave birth to the Church of Jesus Christ. Far from simply a social club, the church was and is empowered by the Holy Spirit to witness the presence of Jesus the Christ to a world that desperately needs the grace, mercy, and presence of the One who has the power to heal not only the body but the soul now and for all eternity. As a pastor, my worst nightmare would be having worship with nobody in attendance. Looking over a seemingly empty sanctuary the past few months though, my dream of witnessing to even more people than could fit into the sanctuary is reality. As somebody aptly proclaimed, "the church is not empty, it is deployed." God is working; a global pandemic may shutdown life as we have known it but cannot shutdown God. On the day of Pentecost, the people no doubt were locked together in one place in fear for their lives, but even their fear could not contain the Holy Spirit that filled them. A Pentecost event is happening in the church today; an empty sanctuary no longer is worship without people, it is worship without borders; it is God doing a new thing as God created a new thing in the heavens and the earth. Think about a time when you thought all had been lost, but God had other plans and set in motion something new, vibrant, and empowering. The Holy Spirit is equipping us to reach beyond our self-imposed borders to reach those who need God, through our Lord Jesus Christ, in their lives. It is the Holy Spirit that is equipping the church to be the church, especially in times such as these; it is exciting; it is empowering; it is joyful-filled when God's presence and power equips the people of God to truly be the Body of Christ serving the lost and the least while offering a witness of grace, hope, mercy, and peace in the midst of many challenging realities of our world today. May you be filled by the power of the Holy Spirit that has the power to revive your soul and set you free to live a new life in Christ; "I want to live like that." Thank you Jesus, for the gift of the Holy Spirit that gives us all we need to live life in the abundance of your grace.
Rev. Tom Joyce, pastor
Fields United Methodist Church
---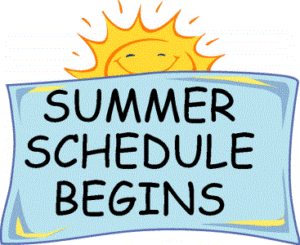 Our Sunday Summer Worship Schedule begins May 21, 2023. We will have one serve beginning at 10:00 AM. Our Saturday evening Service will start June 3, 2023 and be held outside in our pavilion at 5:00 pm.
Pastoral Visits:
If you would like a visit or would just like to talk, please let me know. Please
call or text me at 330-416-1817, call the church office at 440-327-8753, or email me at
fieldsumcpastor@gmail.com. As always, I am available to pray anytime, just give me a call. I
am here for you and honored to be your pastor. God is good all the time!
If you wish to join us in person but are not ready to enter the building, you can worship from your car, tuned in to 88.5 FM or from the comfort of your home by tuning in to one of our online platforms below

Please join us on Sunday on our webpage:
www.fieldsumc.org (click livestream)
FaceBook: www.facebook.com/fieldsunitedmethodistchurch, or
Youtube: www.youtube.com/user/fieldsumc/videos.
The ministry of Jesus Christ continues though Fields especially during this time. If you are able to give, here are a few options:
Online: www.fieldsumc.org tap "giving"
Text: 440-319-3537
Mail: Fields United Methodist Church
34077 Lorain Rd.
North Ridgeville, Ohio 44039
Thank you for your prayers and support.

Our Mission: To make Disciples of Jesus Christ for the transformation of the World.
CONTACT US
North Ridgeville OH 44039
fieldsofficemanager @gmail.com
The information on this site is the property of Fields United Methodist Church. No broadcasting or duplication
of any materials are allowed.
CHURCH COPYRIGHT LICENSES
CCLI #2218007
Church Streaming
and Podcast License
#CSPL016520

CVLI #503204932

WorshipCast
#8044

Our Mission: To make Disciples of Jesus Christ for the transformation of the World.