Pastor Tom's Weekly Blog. "Running Away?" Jonah Chapter 1
September 4, 2020
"But Jonah set out to flee to Tarshish from the presence of the Lord." Jonah 1:3
Maybe Jonah felt it was in his best interest to run away from God's call; maybe he felt his decision would have no impact on anyone but himself. Trouble is, unless we live on a desert island by ourselves with no attachments at all to the outside world, our actions have consequences. For Jonah, by running away from his calling from God, the lives of those on the boat with him were challenged, and even more important, had he been successful in his running away, the people of Nineveh would never have heard and experienced the grace-filled and redeeming word of God on their lives. Maybe our calling is not as grandiose as saving over 100,000 lives as was the case of Jonah. Our calling may not be to cure COVID19 or heart disease. But God still calls us to serve where we find ourselves with the gifts we have received to make a difference in someone else's life. No matter who we are God calls us, and running away from that calling will have a huge impact on those around us. Consider the number of people impacted from sharing the love of Christ to one person. You may say, that is just one; well helping just one person on their journey of life is incredibly important, but chances are, one act of kindness will result in many more people sharing the love of God simply by you sharing God's love and grace to one person. Consider the implications of one grace-filled act. Ask yourself, how many friends do you have? Family members? People that you may encounter even on a casual basis like a grocery store worker or delivery person? Now how many people do you pass by and just share a smile? By responding to God's call to help one person, that one person could potentially reach out to many others with the grace you offered. God calls you to witness the grace of Jesus Christ where ever you find yourself and to those you may encounter along the journey. Your calling is as important as Jonah's because you have been entrusted to offer a gift to even one person that will transform their life and every one of the lives they encounter. God could not permit Jonah to run away from his calling because too much was at stake for the people that God loved. You are called to witness the grace that God has given you to make a difference in the life of another. Whether your calling is curing cancer or offering a cup of water to one who is thirsty, both are equally important in the eyes of God. You may want to run from God's call, but God will never deprive you of the privilege of responding to God's call to share the joy and grace that is Jesus Christ. Thank you Jesus for the privilege to respond to the call you have placed on our hearts.
Rev. Tom Joyce, pastor
Fields United Methodist Church
---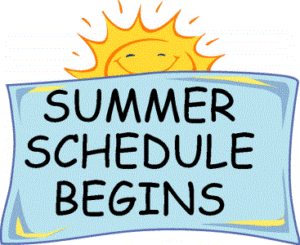 Our Sunday Summer Worship Schedule begins May 21, 2023. We will have one serve beginning at 10:00 AM. Our Saturday evening Service will start June 3, 2023 and be held outside in our pavilion at 5:00 pm.
Pastoral Visits:
If you would like a visit or would just like to talk, please let me know. Please
call or text me at 330-416-1817, call the church office at 440-327-8753, or email me at
fieldsumcpastor@gmail.com. As always, I am available to pray anytime, just give me a call. I
am here for you and honored to be your pastor. God is good all the time!
If you wish to join us in person but are not ready to enter the building, you can worship from your car, tuned in to 88.5 FM or from the comfort of your home by tuning in to one of our online platforms below

Please join us on Sunday on our webpage:
www.fieldsumc.org (click livestream)
FaceBook: www.facebook.com/fieldsunitedmethodistchurch, or
Youtube: www.youtube.com/user/fieldsumc/videos.
The ministry of Jesus Christ continues though Fields especially during this time. If you are able to give, here are a few options:
Online: www.fieldsumc.org tap "giving"
Text: 440-319-3537
Mail: Fields United Methodist Church
34077 Lorain Rd.
North Ridgeville, Ohio 44039
Thank you for your prayers and support.

Our Mission: To make Disciples of Jesus Christ for the transformation of the World.
CONTACT US
North Ridgeville OH 44039
fieldsofficemanager @gmail.com
The information on this site is the property of Fields United Methodist Church. No broadcasting or duplication
of any materials are allowed.
CHURCH COPYRIGHT LICENSES
CCLI #2218007
Church Streaming
and Podcast License
#CSPL016520

CVLI #503204932

WorshipCast
#8044

Our Mission: To make Disciples of Jesus Christ for the transformation of the World.