Pastor Tom's Weekly Blog. "A New Thing" Isaiah 43:14-19
October 9, 2020
"Do not remember the former things, or consider the things of old."
Isaiah 43:18
There is a new expression that I have yet to find in the Bible, "a new normal." When the pandemic with all of its challenges began, it made some sense, but then have things of God ever been normal? What is "normal" for God is always being with us, as promised by Jesus, "to the end of the age," but that is where normalcy ends. Were the "former things" normal or just part of the past? Seems like God was never about replicating the past but rather God has always led us forward, though with some hesitation from us! The same old, same old is just that; the same. Every living thing grows and changes, the only thing normal about living is change. God is never done working in us and through us to spread God's grace by what-ever means necessary. Consider Jesus; born of Mary, fully human yet fully divine, died on a cross and on the third day rose from the dead; does that sound normal to you? Western Novelist Louis L'Mour once wrote that, "there will be a time when you believe that everything is finished; that will be the beginning." All of those who followed Jesus believed the end was the cross, but it was not; God did something new and unprecedented; Jesus was resurrected and offered new life to all who believed, note NEW LIFE. The life Jesus offers is not a life built on the memories of the past but with promises of new beginnings, energized by the Holy Spirit, affirmed by faith and shared through grace. Jesus is not finished with us, quite the contrary, God through Jesus is making everything new and all we need to do is turn back to the reality of our faith which is Jesus, our resurrected Savior. With every journey, the sights along the way constantly change, but looking with eyes of faith even what is the same has been transformed. You are God's "new thing," and with your eyes of faith opened and spirit enlightened what you are experiencing today is not a "new normal," it is new life celebrating yet a new chapter in the chronicle of your life. No longer do you need to sit back and marvel at what God has done, which is everything, but rather celebrate that your life is part of God's greater story played out in this new day. Your faith is not a stopping point along the way nor does it offer the opportunity to live somewhere in the past; it is all new, all exciting, all blessed by the One who neither slumbers nor sleeps, the one who died on a cross to offer you a new life from all the sin that you have been hauling around that has done nothing but held you back from living in the abundance of God's grace. Accept the newness of life that is being offered by Jesus; accept the grace that offers you new beginnings and the eyes of your heart enlightened to see all people along the journey of life as God sees them; cherished honored and beloved children.
Thank you Jesus!
Rev. Tom Joyce, pastor
Fields United Methodist Church
---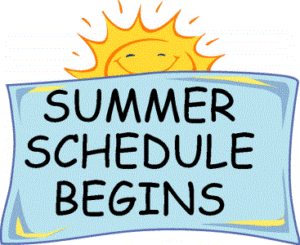 Our Sunday Summer Worship Schedule begins May 21, 2023. We will have one serve beginning at 10:00 AM. Our Saturday evening Service will start June 3, 2023 and be held outside in our pavilion at 5:00 pm.
Pastoral Visits:
If you would like a visit or would just like to talk, please let me know. Please
call or text me at 330-416-1817, call the church office at 440-327-8753, or email me at
fieldsumcpastor@gmail.com. As always, I am available to pray anytime, just give me a call. I
am here for you and honored to be your pastor. God is good all the time!
If you wish to join us in person but are not ready to enter the building, you can worship from your car, tuned in to 88.5 FM or from the comfort of your home by tuning in to one of our online platforms below

Please join us on Sunday on our webpage:
www.fieldsumc.org (click livestream)
FaceBook: www.facebook.com/fieldsunitedmethodistchurch, or
Youtube: www.youtube.com/user/fieldsumc/videos.
The ministry of Jesus Christ continues though Fields especially during this time. If you are able to give, here are a few options:
Online: www.fieldsumc.org tap "giving"
Text: 440-319-3537
Mail: Fields United Methodist Church
34077 Lorain Rd.
North Ridgeville, Ohio 44039
Thank you for your prayers and support.

Our Mission: To make Disciples of Jesus Christ for the transformation of the World.
CONTACT US
North Ridgeville OH 44039
fieldsofficemanager @gmail.com
The information on this site is the property of Fields United Methodist Church. No broadcasting or duplication
of any materials are allowed.
CHURCH COPYRIGHT LICENSES
CCLI #2218007
Church Streaming
and Podcast License
#CSPL016520

CVLI #503204932

WorshipCast
#8044

Our Mission: To make Disciples of Jesus Christ for the transformation of the World.